Cellfina™
Cellfina™ is a new, proprietary technology and process that removes cellulite through an FDA approved treatment approach. The innovation behind Cellfina™ allows doctors to perform treatment in a single visit, precisely target the affected area and offers a solution that can last for more than two years. In fact, Cellfina™ offers the longest FDA-approved cellulite clearance available today.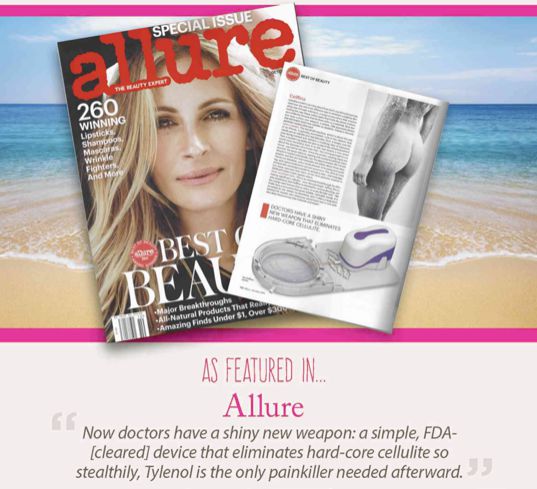 Am I a Candidate for Cellfina™?
Have visible cellulite on your buttocks and thigh areas?
Actively take measures to hide the areas of your body with cellulite?
Find that having cellulite negatively affects your self-esteem?
You are not alone.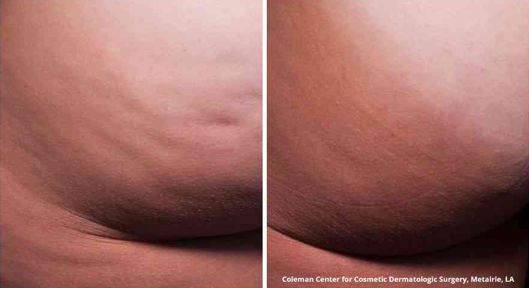 At some point in your life, you have (or will) experience cellulite on your body – if you are like more than 85% of other women around the world. Cellulite on women's bodies isn't just caused by estrogen and other "female" hormones – a woman's skin is structured completely differently than that of men. The primary cause of cellulite is connective bands that are woven throughout fat in the thighs and buttocks creating tension in the skin, resulting in a dimpled and uneven appearance. In addition, female skin is also thinner, generally, than the skin of men, which makes it easier for fat deposits to poke through and be seen. This connective bands act similar to a rubber band under tension, once it gets released, the skin returns to a smoother and more even appearance.
The fact that women are far more likely to suffer from cellulite does nothing to help how cellulite is perceived and, ultimately, deeply affects the psychology of women. Regardless of weight, age and overall physical wellbeing, cellulite negatively impacts women's self-esteem. This impact is often compounded by the presence of, literally, thousands of media outlets online and off, which present the female body in airbrushed renditions of our society's beauty expectations.
Unless you are among the (very) few lucky women in whom cellulite does not naturally occur, you know that no one is immune to the body and self-image issues created by cellulite. The good news is, that there is now a new FDA-approved cellulite treatment that is changing lives for women everywhere.
The Procedure – What to Expect
The Cellfina™ System is focused on treating the underlying structural makeup of cellulite. This structure is realized as bands that are essentially woven into and around the fat found in the thighs and buttocks. These structures are tightly bound and create the pocks and bumps you see on the outside by pulling down on your skin around the fat deposits. Cellfina™ acts as a disruptor of these structures, ultimately releasing the tension created by cellulite in order to allow your skin to relax back into its original, smooth condition.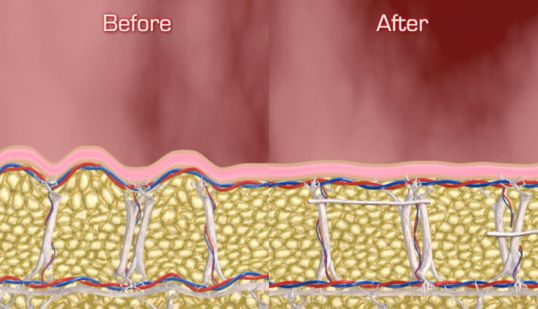 What is the procedure for a Cellfina™ treatment?
One of the best parts about the Cellfina™ solution is that a treatment is usually completed in less than one hour, depending, of course, on the size of the area, the number of dimples and any special individual needs of the patient.
On the day of your consult, Dr. Palladino will explain the process in detail and answer all your questions and concerns regarding Cellfina™. The treatment happens right there in our office – there is no need for an operating room or general anesthesia. The day of your treatment, Dr. Palladino will mark the areas to be treated and then place a suction device over the dimples preparing the areas for treatment. A numbing solution will be applied to minimize any discomfort. The Cellfina™ system is administered directly to the area where cellulite is present using a small, needle-like device. This device acts to disrupt those tension-creating bands that are found just below the skin's surface.
Is Cellfina™ Safe?
The system is absolutely safe, has been approved by the FDA and is only available through a licensed physician. It is important to note, however, that the system is designed exclusively for treating cellulite in the thigh and buttocks regions of adult females. As such, treatments for other areas of the body are not available and not recommended with the Cellfina™ system.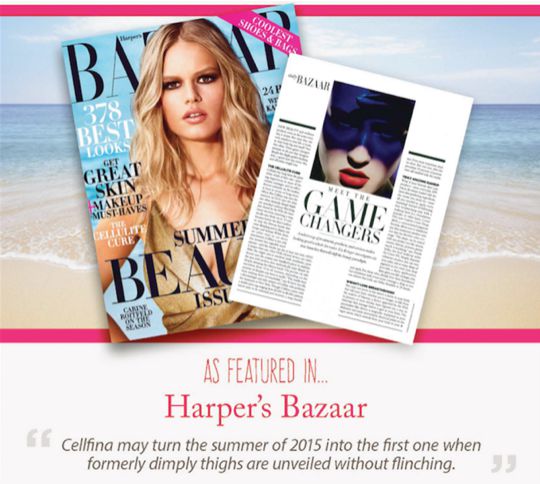 The Recovery
After your treatment, it's likely that you'll experience side effects such as soreness, tenderness, and bruising around the treated areas. When the system was submitted for testing to the FDA, there were no serious side effects reported. In fact, this study reported that only three days after the treatment, patients generally reported minimal pain and that 82% of participants only felt pain when pressure, such as a touch, was applied to the treatment area. The study also reported that over 90% of patients showed no signs of bruising just four weeks after the treatment. Results can be seen in as little as three days and last for up to two years or even more. You will be able to return to work, family, and social commitments immediately after treatment.
Frequently Asked Questions about Cellfina™
How long does a Cellfina™ treatment last?
Patients who receive Cellfina™ treatments can expect to find relief from cellulite in the treated areas for two years or more.
Will there be cuts or scarring?
Cellfina™ treatments are delivered using a small, needle –like device. Patients do not experience scarring and the procedure does not involve an operating room or general anesthesia.
How many treatments are required?
Cellulite affected areas of the buttocks and thighs can be treated with just one session.
Will I need to take vacation or time off?
The Cellfina™ process allows patients to leave the doctor's office and immediately return to your home, family or work the same day.
How much will it cost?
The price for the Cellfina™ treatment will depend on the areas and the amount of dimples to be treated. It ranges between $4,000-$8,000. Financing options are available.
Videos
We keep your information private
For inquiries of any kind, please feel free to fill out the form.
---
Practice/Medspa East
10175 Gateway Blvd. West - Suite 210
El Paso, TX 79925
Medspa West
5925 Silver Springs Dr. Suite C
El Paso, TX 77912