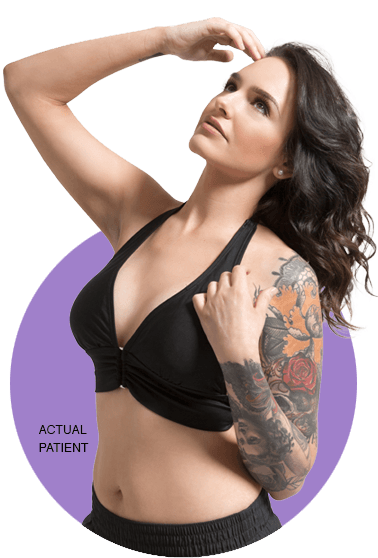 Arm Lift
---
While every area of your body is subject to skin laxity and the accumulation of excess fat as you age or experience weight loss, the upper arms are particularly susceptible. For many patients, it is challenging, if not impossible, to reduce and tone the arms using at-home methods such as diet and exercise. The presence of hanging skin and sagging fat deposits distracts from your figure and makes many men and women self-conscious about their appearance to the point where they feel the arms must always be hidden. Arm lift surgery can reduce the circumference of your upper arms and tighten the skin to improve their shape and boost your confidence.
Arm Lift Benefits
---
Provides firmer, smoother arm contours
Improves upper arm musculature
Allows for increased clothing variety
Enhances self-esteem
Arm Lift Options
---
This outpatient procedure is performed in an accredited surgical facility under the safety and comfort of anesthesia.
Incisions
Before your surgery, Dr. Palladino will make several marks on your arms to use as his guidelines. The incisions for arm lift surgery traditionally run from the armpit to the elbow on the underside of the arm. The extent of these incisions varies depending on the amount of excess skin and fat present.
Technique
Once the incisions are made, loose skin is trimmed away, excess pockets of fat are excised, and your incisions are closed to reveal a smoother, more toned arm appearance.
Liposuction
Liposuction is commonly combined with arm lift surgery for patients with exercise and diet-resistant pockets of fat in the upper arm. Liposuction permanently removes excess fat cells to reduce the overall circumference of the arms.
Preparing for Your Surgery
---
An arm lift surgery requires both physical and emotional preparation. To avoid complications, patients must quit smoking for at least six weeks before and after the surgery. Patients should avoid eating or drinking anything for at least eight hours before their scheduled procedure. Dr. Palladino recommends wearing a loose-fitting shirt that opens in the front to make it easier to dress afterward. When you arrive, you will be escorted to the pre-surgical suite where Dr. Palladino will prepare you for the surgery by making markings on your arms and answering any last minute questions you may have. You are required to have someone present to drive you to and from the facility and stay close by during the procedure. This companion should stay with you for the first night of your recovery to help with all household chores, including food preparation, dressing, and anything else you may require.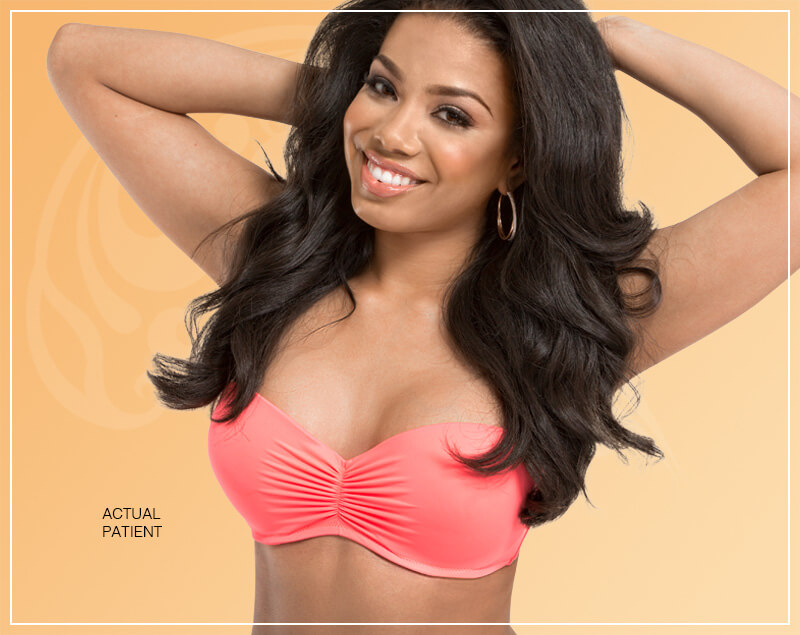 Arm Lift FAQs
---
Am I a candidate for arm lift surgery?

Ideal candidates for arm lift surgery are in good overall health with realistic expectations of their results. Patients may consider arm lift surgery if they can relate to at least one of the following concerns:

Dissatisfaction with the appearance of the arms
Loose, hanging skin on the upper arm
Excess fatty deposits in the arm
Inability to find properly fitting clothing due to the arms

What can I expect from my recovery?

The recovery period after arm lift surgery is generally short. Many patients experience bruising and swelling after the procedure that will fade over the following days and weeks. Over-the-counter pain medication, cold compresses, or prescribed oral medication can alleviate postoperative discomfort. A compression garment will likely be wrapped around your arms after your surgery. Initially, this garment should be worn around the clock to reduce swelling, promote circulation, and help speed up your recovery. While arm lift recovery varies from patient-to-patient, most can return to work after one week. Patients should refrain from lifting anything heavy or exercising for at least six weeks.

What does arm lift surgery cost?

Dr. Palladino tailors each arm lift surgery to meet your individual needs and goals. The techniques used, the amount of excess skin and fatty tissue, and factors such as anesthesia, facility, and surgeon's fees all contribute to the final cost of your procedure. On average, the cost of arm lift surgery varies between $3,500 and $ 6,000.

What kind of scarring will I have?

Scars can develop after any surgery; however, most patients express that the results they achieve with arm lift surgery outweigh the risk of scarring. Scars may form where the incisions were made between the armpit and the elbow. Patients can help reduce the appearance of these scars by keeping the incisions out of the sun, avoiding any excess movement or tugging near the incisions, and using silicone strips or gel to protect the healing incisions. All scars fade with time.

Can liposuction alone provide the same results?

While liposuction can be used in combination with arm lift surgery to improve your results, liposuction alone will not provide the same results as an arm lift. Liposuction only targets excess fat cells; it does not address skin laxity. Liposuction may be an appropriate standalone procedure if you have good skin elasticity but are troubled with pockets of fat in the upper arms. Otherwise, arm lift surgery is the procedure for you.
Arm Lift
---
Learn More About Arm Lift
---
For more information about arm lift surgery, please contact the MagicSurgeon plastic surgery team, led by respected surgeon Dr. Humberto Palladino. Dr. Palladino would be pleased to meet with you to discuss your cosmetic goals and come up with a plan to achieve them. Please contact us at (866) 624-7874 or schedule a one-on-one consultation.
We keep your information private
For inquiries of any kind, please feel free to fill out the form.
---
Fort Lauderdale Location
---
Top Aesthetics
3500 Powerline Rd
Oakland Park, FL 33309