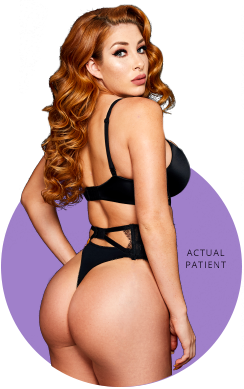 Buttock Augmentation Surgery
---
Many women desire a more shapely buttocks to feel feminine and beautiful. If you have a naturally flat buttocks or have noticed gradual sagging and laxity, you may be interested in surgical buttock augmentation. When performed by a talented and artistically inclined plastic surgeon, buttock augmentation can significantly enhance the curves and contours of your body. Board-certified plastic surgeon Dr. Humberto Palladino offers butt augmentation with implants and fat grafting at his practice. Also your own tissues can be rearranged to provide fullness to your buttock; Dr. Palladino can borrow tissue from your lower back, thus accentuating the curves of your body. Consider scheduling a butt augmentation consultation with Dr. Palladino to learn more about how to attain a full, healthy-looking posterior.
Am I a Candidate for Buttock Augmentation Surgery?
---
If you are in good health and have reasonable expectations of buttock augmentation surgery, you will probably make a good candidate for surgery. Dr. Palladino will meet with you to describe the surgery, its benefits, risks and your options. He will outline the surgical techniques that he will use to add volume and healthy projection to your buttocks. You will receive a comprehensive set of instructions for preparing for surgery, and Dr. Palladino will answer any questions that you have.
The Procedure - What to Expect
---
Dr. Palladino performs buttock augmentation on an outpatient basis. You will spend several hours at the surgery center before returning home to the comfort of your own bed or couch. Please arrange to have a companion drive you to and from the surgery center, and stay on-hand for updates during your surgery.
There are several safe and effective ways to enhance the size and shape of your buttocks, including implants and your own fat and tissues. Dr. Palladino will consult with you to determine the best approach for adding healthy and natural-looking curves to your buttocks. Together, you will come up with a treatment plan based on your personal goals and body shape.
If you decide to use your own fat (the technique is called fat grafting and the procedure is known as a "Brazilian Butt Lift" or "BBL"), you will enjoy the added benefit of liposuction in another area of your body. For example, if Dr. Palladino uses abdominal fat, you will look slimmer in that area.
Procedure Types
( 1 ) Buttock Augmentation With Fat Grafting
Either general anesthesia or intravenous sedation is administered for your comfort.
Liposuction is performed to extract fat from your abdomen, lower back, or another area with excess fat.
The extracted fat is purified in preparation for reinjection into the buttocks.
The extracted fat is artistically injected into the buttocks.
The injected fat enhances the shape, fullness, and projection of the buttocks.
( 2 ) Buttock Augmentation With Implants
Either general anesthesia or intravenous sedation is administered for your comfort.
Incisions are placed either at the top of both cheeks, in the gluteal creases where the cheeks meet the thighs, or in the crease between both cheeks. Alternatively, one incision may be made down the center of the sacrum between the buttocks.
Silicone butt implants are inserted in or above each gluteal muscle, and the incisions are closed.
The implants permanently enhance the shape, appearance, and projection of the buttocks.
( 3 ) Buttock Augmentation With Muscle Flaps
Either general anesthesia or intravenous sedation is administered for your comfort.
Tissue from the lower back is repositioned as muscle flaps to create more buttocks volume.
The tissues of the buttocks will be lifted to improve ptosis (sagging) and create a more rounded and shapely appearance.
The muscle flap creates implant-like volume to improve the shape, appearance, and projection of the buttocks without inserting an actual implant.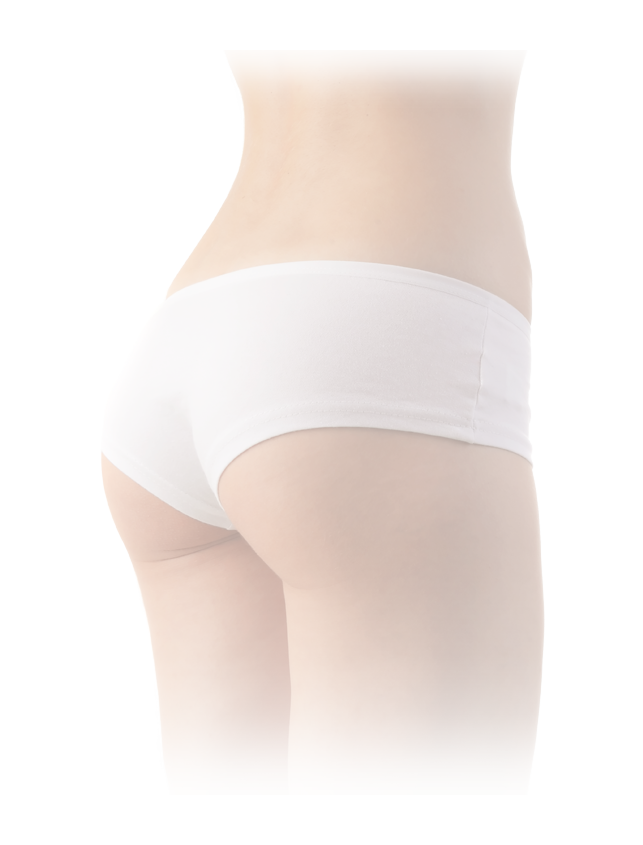 ( 1 )
( 2 )
( 3 )
Preparing For Your Surgery
---
Those who experience the best results with buttock augmentation are in good health, do not smoke, and have reasonable expectations. Dr. Palladino will discuss your surgical options and goals with you in detail before determining which butt augmentation technique should be used. To prepare for your surgery, plan to fast for at least eight hours before the procedure and follow the other recommendations given to you by Dr. Palladino. On the day of your surgery, you will come to the pre-operative suite and be guided from that point onward. Bring a family member or friend with you so that they can receive updates on your progress and be prepared to drive you home afterward.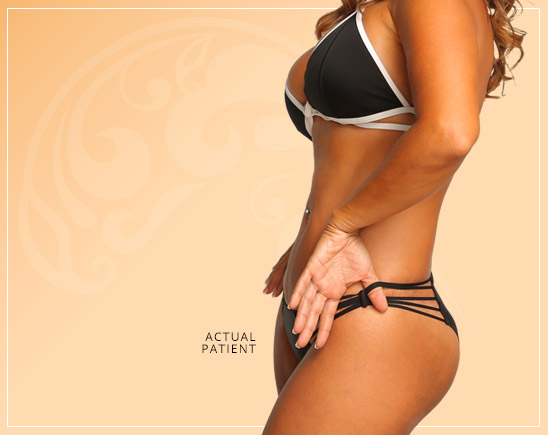 Buttock Augmentation Surgery
---
Frequently Asked Questions
---
Which option is best for butt augmentation?

It is impossible to say that one of these options is best for all individuals. For individuals with little to no excess fat, fat transfer will not be possible. For those with excess fat in other areas of the body, fat transfer may be best as it can enhance their buttocks and eliminate fat from unwanted areas. For those whose buttocks appear droopy, butt augmentation with muscle flap is an excellent option as it also provides a butt lift. For those interested in more subtle results, fat transfer may be a good option as some of the fat will be reabsorbed by the body. Dr. Palladino will help you determine which procedure is best for you.

Can only women undergo butt augmentation?

While most candidates for butt augmentation are women, men can also undergo this procedure. Each of these options is an acceptable technique for male butt augmentation.

What is the recovery like after buttock augmentation?

Recovery varies from patient to patient, but you should plan to avoid sitting as much as possible for two weeks. Plan to sleep on your stomach for several nights to allow your buttocks to heal and adjust. Some mild side effects such as swelling and bruising may last for several weeks. Dr. Palladino will provide you with more specific personal guidelines and instructions, such as when it is appropriate for you to return to normal activities

Will butt augmentation leave scars?

Patients who receive butt implants can expect some scarring where the incisions are placed. These scars will be inconspicuous, can be hidden by clothing, and will fade over time. Those who undergo butt augmentation with the muscle flap technique will have slightly more noticeable scarring, but the scars can easily be hidden by clothing. Patients who receive fat grafting will have only minimal, inconspicuous scarring from the minor incisions used for liposuction.

How much does butt augmentation cost?

Buttock augmentation varies depending on the technique and type of anesthesia used. Typically, it will cost between $5,500 - $13,000.

What results can I expect from butt augmentation?

With each technique, results will be immediately noticeable but will be somewhat disguised by swelling. As swelling subsides, your buttocks will look naturally fuller and rounder, giving you more accentuated curves than you had before surgery. Both butt implants and butt augmentation with muscle flaps produce results that are immediately noticeable. If you receive fat grafting, you will not see the final results until six to eight weeks after the procedure, as some of the transferred fat will be reabsorbed by the body. Butt implants produce permanent results. Results are long lasting to permanent for butt augmentation with fat grafting and with muscle flaps.
Learn More About Buttock Augmentation
---
If a fuller, perkier-looking buttocks would make you feel better about your appearance, South Florida cosmetic surgeon Dr. Humberto Palladino recommends butt augmentation surgery. Dr. Palladino would be happy to consult with you about this and other body contouring procedures such as lower body lift, thigh lift or abdominoplasty. Contact him today at (866) 624-7874 to schedule your consultation.
We keep your information private
For inquiries of any kind, please feel free to fill out the form.
---
Fort Lauderdale Location
---
Top Aesthetics
3500 Powerline Rd
Oakland Park, FL 33309