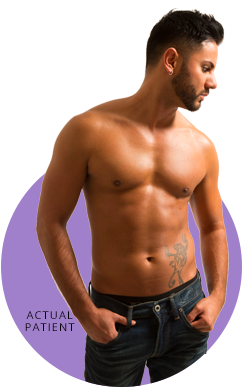 Male Breast Reduction (Gynecomastia Surgery)
---
Believe it or not, male breast reduction is a frequently performed procedure. As many as 40 to 60 percent of males have excess chest tissue that gives them the appearance of overly large male breasts. This condition, called gynecomastia, can lower self-esteem and make you feel uncomfortable with your body. Male breast reduction surgery can correct gynecomastia and give you a masculine-looking chest that helps you feel more attractive and confident.
What Do You Desire...
---
Eliminate male breasts
Improve chest contour
Masculinize your appearance
Eliminate embarrassment and anxiety
Increase self-confidence
Experience permanent results
Gynecomastia Surgery Options
---
Liposuction
The procedure is performed on an outpatient basis.
Either general anesthesia or intravenous sedation is administered for your comfort.
Small incisions are inconspicuously placed for the liposuction cannula.
Excess fat is suctioned from the breasts through the cannula to improve chest contour.
Liposuction for male breast reduction leads to a permanently flatter and more masculine chest.
Surgical Incisions
The procedure is performed on an outpatient basis.
Either general anesthesia or intravenous sedation is administered for your comfort.
Liposuction is performed to remove excess fat from the breasts.
A small surgical incision is made beneath the areola.
Excess breast tissue is removed through the surgical incision.
In severe cases, additional small incisions are made to facilitate the removal of more breast tissue and excess skin.
The remaining tissues are pulled taut, and the areola is relocated higher on the chest.
Male breast reduction with surgical incisions creates a flatter, more masculine, and more natural-looking chest contour.
Preparing For Your Surgery
---
Potential candidates for gynecomastia surgery are older teens and adults who are bothered by the appearance of their enlarged breasts. A personal, confidential consultation with Dr. Palladino will reveal whether this procedure is right for you. Your health history and your expectations will also determine whether you are ready for this surgery. Therefore, an endocrinology evaluation and an evaluation with your primary care physician are needed before you schedule your consultation. Once Dr. Palladino has determined that gynecomastia surgery is right for you, he and his staff will give you preoperative instructions on how to prepare for the procedure. Do not smoke any tobacco products for at least two weeks before and after surgery, and refrain from eating or drinking for eight hours prior to the procedure. Plan to have a companion drive you to and from the surgery center on the day of your surgery. Once the procedure is over, you will be able to return home for the duration of your recovery.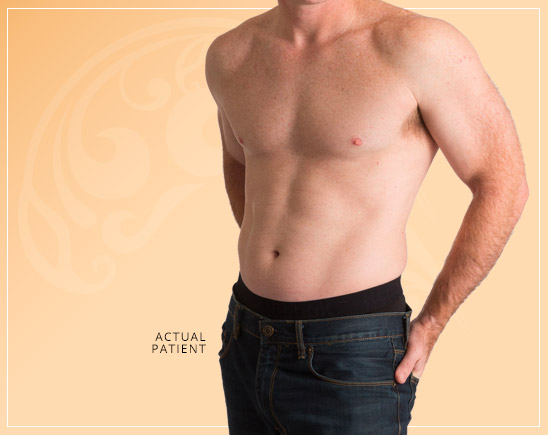 Enlarged Breast In Men (Gynecomastia)
---
Frequently Asked Questions
---
Am I a good candidate for gynecomastia surgery?

Most candidates for this procedure feel self-conscious, unconfident, and even physically uncomfortable as a result of their enlarged male breasts. If you are a male with excess breast tissue that causes you to feel uncomfortable wearing fitted shirts, removing clothing, or engaging in certain activities or social situations, you may be a good candidate for gynecomastia surgery. As breast development should be complete before this surgery is performed, younger teens and children are not good surgical candidates.

What is recovery like after male breast reduction?

Recovery is typically short and free of complications if you follow all of Dr. Palladino's postoperative instructions. Bruising and swelling are common, but they last only a short while. Most men can return to work and exercise a week or so after surgery. Dr. Palladino will monitor your recovery and can answer any other questions you may have.

What will my male breast reduction procedure cost?

The price of your procedure will depend on the surgical technique as well as facility fees, anesthesia, lab tests, physician's fees, prescriptions, and postoperative necessities. This price can vary between roughly $5,700 and $8,000. The exact price will be provided after your detailed consultation with Dr. Palladino.

Does gynecomastia surgery produce natural-looking results?

Dr. Palladino can perform gynecomastia surgery to make your chest look more natural and masculine. After this procedure, men typically enjoy having a normalized, manly chest appearance that does not show noticeable signs of having undergone surgery.

How long will the results last?

The results of male breast reduction surgery are usually permanent. All candidates should undergo a medical evaluation with their primary care physician to determine that there is no underlying medical or behavioral cause of gynecomastia. This evaluation serves to ensure that the results of your male breast reduction surgery are permanent and that you can enjoy a slimmer, more sculpted chest for many years to come.
Learn More About Gynecomastia
---
For more information about Gynecomastia, please contact board-certified plastic surgeon Dr. Humberto Palladino. Dr. Palladino would be pleased to meet with you to discuss your cosmetic goals and come up with a plan to achieve them. Please contact us at (866) 624-7874 or schedule a one-on-one consultation.
We keep your information private
For inquiries of any kind, please feel free to fill out the form.
---
Fort Lauderdale Location
---
Top Aesthetics
3500 Powerline Rd
Oakland Park, FL 33309