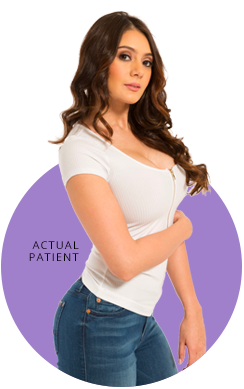 Breast Augmentation
---
Every year, hundreds of thousands of women have their bodies and lives changed through breast augmentation surgery. When your breasts aren't an ideal size and shape, you may begin to lose confidence in how you feel about your body. Breast augmentation is designed to add breast volume, correct breast asymmetry, and reshape the breasts. For many women, enhancing the appearance of their breasts creates attractive curves that restore a more balanced body shape. Breast augmentation has helped many women attain breasts that make them feel attractive and confident.
Do You Want...
---
Increased breast volume
Better breast shape
Pronounced breast projection
Enhanced cleavage
Feminine and voluptuous curves
To feel confident and attractive in your body
Breast Augmentation Options
---
There are many options available when it comes to breast augmentation, which allows you to customize your breast augmentation to achieve the results you desire.
Implant Type
Silicone
A silicone shell filled with a cohesive silicone gel
More authentically simulates breast tissue
The solid nature of silicone implants prevents visible rippling and wrinkling
More difficult to detect an implant rupture
May require a larger incision for implant placement
Saline
A silicone shell filled with a saltwater solution
Utilizies a small incision site because the implant is filled after placement
Easier to identify an implant rupture
More prone to visible rippling and wrinkling
Feels less natural compared to silicone implants
Incision Location
( 1 ) Inframammary
Along the breast fold where the breast tissue meets the chest wall
Ideal for submuscular implant placement
May result in some mild visible scarring
( 2 ) Periareolar
Around the edge of the areola (the colored portion that surrounds the nipple)
Ideal for subglandular implant placement
May result in some limited visible scarring
( 3 ) Transaxillary
In the soft tissue of the armpit
Doesn't result in any visible scarring on the breasts
Technically demanding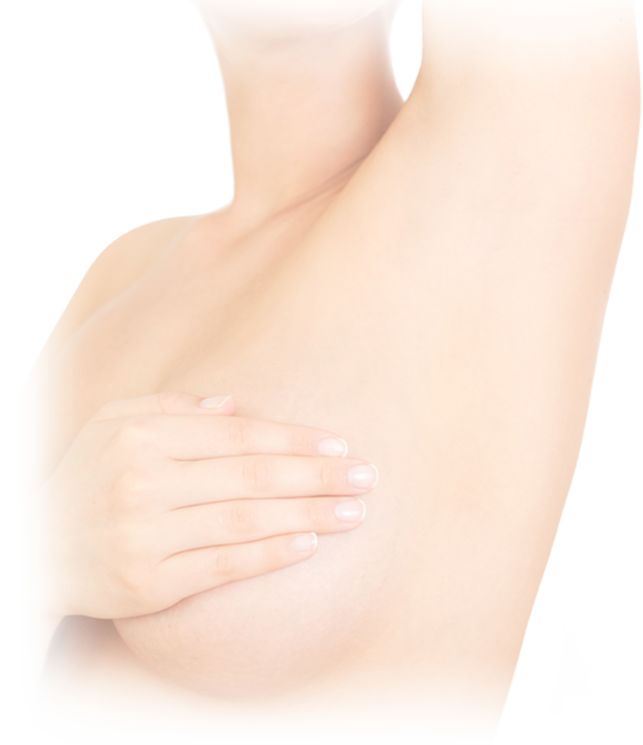 ( 1 )
( 2 )
( 3 )
Implant Location
Over the muscle
The implant is placed so it sits under the breast gland and tissue but over the pectoral muscle
Easier placement and less recovery time
Creates more defined cleavage
Implant doesn't distort during pectoral muscle flexing
Ripples are more easily noticeable
Has a higher rate of capsular contracture
Lower breast tissue lacks support and may be more likely to bottom out
Under the muscle
The implant is placed so it sits under both the breast gland and the pectoral muscle
Ideal for women with thinner breast tissue because it camouflages the implant edges
Provides extra implant support
Lower risk of capsular contracture
More post-op discomfort due to the displacement of the pectoral muscles
Might cause slight implant distortion while flexing the pectoral muscle
Fat Transfer for Breast Enhancement
---
Women who desire an increase in their breast size and an improvement in their breast shape but don't want implants should consider fat transfer. Breast enhancement using fat transfer is ideal for patients looking to achieve a subtle volume increase and for those who have excess deposits of fat around the abdomen, hips, thighs, and lower back. Fat transfer uses injections of patient-harvested fat into the breasts to create full, natural breasts. This technique provides a conservative size increase while enhancing your physique through body contouring.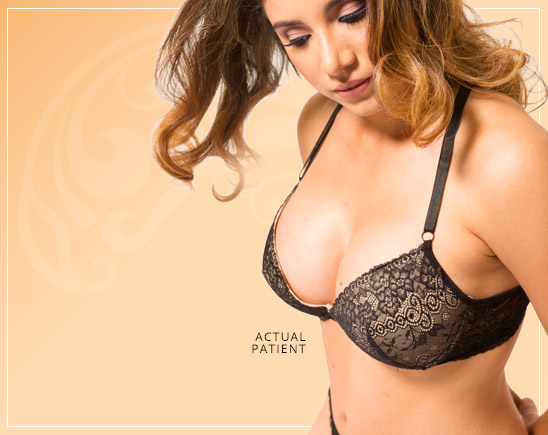 Frequently Asked Questions
---
How will I feel following my breast augmentation?

Your breasts will be bruised, swollen, and red following your surgery. Soreness and mild discomfort is common and may last for several days. Pain medication will be used during this time to control any associated discomfort.

What can I expect during my breast augmentation recovery?

For three to four days, you will need to rest in an upright position. Most patients can return to work within one to two weeks following their surgery. Most major swelling subsides after six weeks. Around this time, patients can resume their regular workout routine with their surgeon's permission. Your results should also be visible after six weeks.

Will my breast augmentation scars ever fade?

While some breast augmentation surgeries result in visible scarring, most scars are either minimal or discreetly placed. Any scars that form are likely to fade over time.

Why are anatomical implants beneficial?

Your implants can either come in a round or anatomical (teardrop) shape. Anatomical implants are generally used when women desire a naturally shaped breast. Discuss your aesthetic desires during your consultation to help your surgeon determine whether anatomical implants would suit you.

Why are textured implants beneficial?

Implants can have a smooth or textured outer shell. A textured shell is common for anatomical implants because it increases traction against the breast pocket to hold the implant in the correct position. Doctors may also choose a textured implant if a patient is having revision surgery to correct capsular contracture.

Should I combine a breast lift with my augmentation?

Women who have moderate to severe breast sagging should consider combining a breast lift with their augmentation. A breast lift tightens and restores firmness to the breast tissue. Weak breast tissue can lead to bottoming out or droopy breast shape.

What will my breast augmentation cost?

The price of an individual's breast augmentation will depend on the type and size of the implant chosen, as well as surgical, anesthesia, and facility fees. The price can vary between $4,500 and $7,500. The exact price of your breast augmentation will be provided after an extensive consultation.
Learn More About Breast Augmentation
---
For more information about breast augmentation, please contact the MagicSurgeon plastic surgery team, led by respected surgeon Dr. Humberto Palladino. Dr. Palladino would be pleased to meet with you to discuss your cosmetic goals and come up with a plan to achieve them. Please contact us at (866) 624-7874 or schedule a one-on-one consultation.
We keep your information private
For inquiries of any kind, please feel free to fill out the form.
---
Fort Lauderdale Location
---
Top Aesthetics
3500 Powerline Rd
Oakland Park, FL 33309