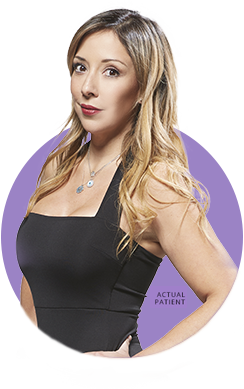 Mommy Makeover
---
Bearing children can be one of the most rewarding and treasured experiences in a woman's life. However, bringing a child into the world prompts numerous changes in lifestyle as well as changes to the body. While some women manage to reclaim their pre-pregnancy figures using traditional at-home methods, many mothers struggle with stubborn fat deposits, sagging and deflated breasts, stretch marks, and weakened abdominal muscles. A combination of procedures known as a Mommy Makeover can help restore a mother's body to a more youthful appearance and contour.
Schedule a Consultation
Do You Want...
---
A firmer, flatter abdomen
Improved overall body contours
A more prominent, youthful bustline
A slimmer silhouette
Mommy Makeover
---
A Mommy Makeover is usually performed in an outpatient setting but may require an overnight stay. Patients are sedated with general anesthesia to ensure comfort throughout the surgery. The Mommy Makeover may include any combination of the following procedures:
Tummy Tuck: Dr. Palladino creates a horizontal incision between the hip bones and sometimes a secondary incision around the navel. He then tightens the muscles of the stomach wall, removes excess hanging skin, and tightens the abdomen so that it is flatter and firmer.
Breast Augmentation: Using breast implants, Dr. Palladino can restore volume to deflated breasts and improve the breast contour. The incision type, implant type, implant placement, and other relevant details are determined during your consultation.
Breast Lift: Dr. Palladino tightens the breast skin and redistributes the tissues of the breasts so that they appear more lifted and firm. He also removes excess skin to correct sagging, producing a more youthful appearance. The technical approach is determined during your consultation.
Liposuction: Dr. Palladino will perform liposuction to remove excess fat from the body. The most common treatment sites are the abdomen, hips, and thighs. He makes minor incisions in the target areas and then inserts a cannula through which the surplus fat is suctioned out.
Preparing for Your Surgery
---
Those who experience the best results with the Mommy Makeover are near their goal weight and have several cosmetic concerns, which may include excess tissue in the abdomen, sagging or deflated breasts, and stubborn fat deposits. Ideal patients are also in good health and do not smoke. To prepare for the surgery, you should avoid eating or drinking anything for at least eight hours prior to the procedure. When you arrive at the surgery center, you will be escorted to the pre-operative suite where Dr. Palladino will map out your treatment areas to guide him during the surgery. A family member or friend should accompany you to the surgery center and remain available for updates on your progress. The Mommy Makeover is performed as an outpatient basis or overnight stay; after the procedure and a short recovery period at the surgical center, you may be able to return to the comfort of your own home the same day as your surgery. You can also opt for an overnight observation, which will be recommended in some cases.
Mommy Makeover
---
Frequently Asked Questions
---
Am I a candidate for a Mommy Makeover?

Most Mommy Makeover candidates are concerned about having excess fat, sagging abdominal skin, and saggy and deflated breasts. You may be a candidate for a Mommy Makeover if your body has suffered significant alterations due to pregnancy, breastfeeding, unwanted weight gain, or aging. The Mommy Makeover is entirely customizable, so your treatment plan will be tailored to your unique body contour.

How long is the recovery period after a Mommy Makeover?

Patients are likely to experience swelling, discomfort, bruising, and tenderness in the treated areas. Getting adequate rest and avoiding strenuous activities is imperative during recovery. Dr. Palladino provides detailed instructions to follow, which makes the healing process faster and more comfortable. Most Mommy Makeover patients are ready to work within 10 to 14 days after surgery.

Will a Mommy Makeover result in scars?

As with any surgery that involves skin excision, there will be resulting scars. The tummy tuck scar is a horizontal line across the hips that can be hidden beneath most styles of swimwear. Breast procedure scars are placed in discreet locations, making them easy to conceal with clothing. The incisions created for liposuction are quite small, so any resulting scars are virtually undetectable. With Dr. Palladino's advanced suturing technique, the scars will heal quickly and fade significantly over time.

How much does a Mommy Makeover cost?

The Mommy Makeover can be customized to include a variety of different procedures, so the cost varies from case to case. However, by combining treatments, patients save on anesthesia and facility fees as well as the downtime that is required. The average Mommy Makeover costs between $8,000 and $15,000.
Learn More About Mommy Makeover
---
For more information about Mommy Makeover, please contact MagicSurgeon Humberto Palladino, MD, FACS. Dr. Palladino would be pleased to meet with you to discuss your cosmetic goals and devise a personalized treatment plan. Please call us at (866) 624-7874 or request your one-on-one consultation online today.
We keep your information private
For inquiries of any kind, please feel free to fill out the form.
---
Fort Lauderdale Location
---
Top Aesthetics
3500 Powerline Rd
Oakland Park, FL 33309