How to Get Natural-Looking Facelift Results
Posted December 20, 2017 in Facial Rejuvenation
The purpose of facelift surgery is to rejuvenate the appearance so that you can look like a younger version of yourself. The results of a facelift should look so natural that your peers cannot tell you've had surgery. You can avoid overly stretched, unnatural-looking facelift results like the celebrity Mickey Rourke by coming to MagicSurgeon Dr. Humberto Palladino for your facelift procedure.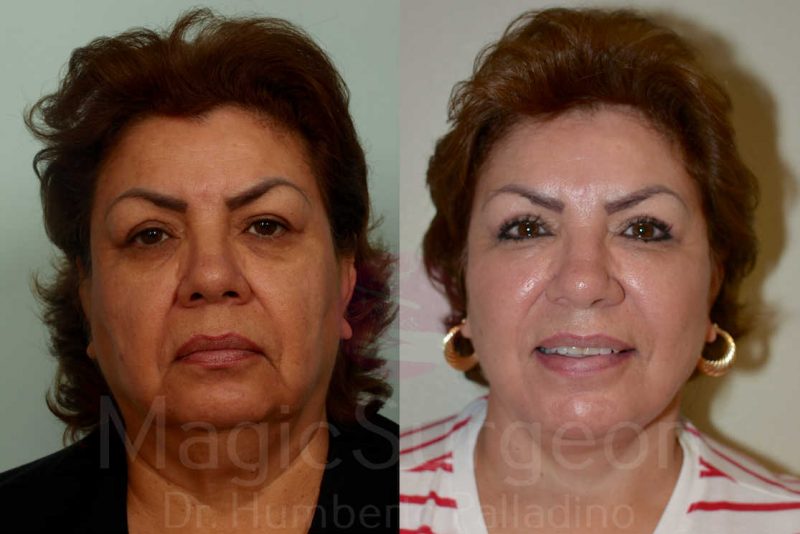 The Problem With Older Facelift Techniques
The original facelift technique, performed well into the 1960s and 1970s, lifted the face by excising loose skin. Cutting off the excess skin made the facial skin tighter and smoother, but it also created an odd, operated-on look because it was only correcting part of the problem. Doctors eventually developed newer techniques that addressed the sagging underlying tissues and age-induced volume loss, but without using a personalized surgical approach, the results were lacking. Additionally, poor incision placement led to noticeable scars in front of the ears. Pulling the skin too tight led to pixie ears, which make the shape of the ear appear inhuman!
Dr. Palladino's Approach to Facial Rejuvenation
Dr. Palladino rejuvenates the face by addressing the natural changes that occur with aging. These include thinning skin, sagging tissue, displaced fat, and volume loss. For facelift surgery, he hides the incisions behind the ears and hairline. He repositions the underlying tissues and fat, lifts the facial muscles, and removes excess skin. He also offers a limited-incision facelift for patients who do not need significant correction. These two techniques allow Dr. Palladino to customize the facelift procedure for each patient's needs. Through these approaches, Dr. Palladino can restore a smoother complexion, firmer skin, a younger appearance, and a defined jawline and neck contour.
Taking a Unique Approach
You may consider the fact that the best way to achieve natural-looking results could include choosing another procedure instead of facelift surgery. Perhaps your facial lines, wrinkles, and sagging are more prominent in your upper face, in which case a forehead lift might be more appropriate. Of the wide variety of facial rejuvenation treatments available today, multiple others, or a combination thereof, could be ideal for your needs. Often, facelift surgery is performed in combination with a brow lift or eyelid surgery to rejuvenate both the upper and lower face. Dr. Palladino may recommend that you combine your facelift with fat injections or injectables to add volume and smooth out wrinkles. Using a range of techniques for facial rejuvenation, all specifically chosen to meet the needs of the patient, Dr. Palladino can help you achieve the most natural-looking results.