Treat Yourself With a Mommy Makeover
Posted April 18, 2019 in Mommy Makeover
Starting a family can be an exciting step for many couples, and having a baby can be a joyful, rewarding experience. However, after pregnancy, most women undergo significant body changes that can sometimes be embarrassing and leave women dissatisfied or uncomfortable with their body. The most common consequence of childbearing can include:
Asymmetrical breasts

Excess fat and skin on the stomach area

Lost volume from breasts

A sagging bustline

Stretched or large nipples and areolas (the darker skin surrounding the nipples)

Stretch marks

Relaxed or separated abdominal muscles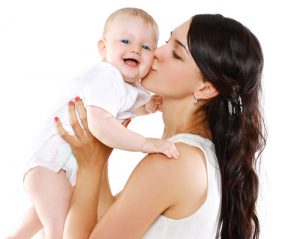 Fortunately, a Mommy Makeover is designed to combine procedures that will completely rejuvenate the body contour in one operation to reduce recovery time. Every Mommy Makeover is uniquely customized to address each patient's specific concerns, most commonly the tummy region, the waist, and the breasts. Techniques to tighten and enhance these areas of the body include breast augmentation to add volume to breasts, a breast lift to reposition the breasts higher on the chest, liposuction to remove excess fat from targeted areas, and a tummy tuck to eliminate excess skin and tighten the muscles around the abdomen. Ideal candidates for this surgery have realistic expectations, are in good overall health, and are finished having children.
What to Expect
Once you decide that you'd like to undergo Mommy Makeover surgery, it is recommended that you get into shape by starting an exercise routine and eating a well-balanced diet. The best results are achieved when a stable weight is reached.
Preparation
Before your Mommy Makeover surgery, you may be required to do lab testing or get a medical evaluation, adjust certain medications (if you are taking any), avoid using tobacco products, and reduce any medications or supplements that can increase bleeding. Discuss your medical history, any medications you are currently taking, and your desired outcome during your consultation with Dr. Palladino to ensure everything is communicated prior to your surgery. Obtaining essential items for your recovery, such as getting prescription medications filled and purchasing any necessary surgical garments or dressings in advance will help during your recuperation.
Your Procedure
In preparation for your surgery, eating or drinking anything should be avoided for at least eight hours before the procedure. During your Mommy Makeover surgery, you should have a friend or family member available or directly at the surgery center for support. Mommy Makeover surgery is performed as an outpatient procedure using general anesthesia.
Maintain Your Outcome
To keep your Mommy Makeover results, it is best to continue avoiding any tobacco products. You should also exercise consistently and opt for healthier food options. It is essential to allow your body to rest after your procedure and follow your post-operative care instructions carefully. It is best to avoid strenuous activities until you have fully recovered. Becoming pregnant again will likely undo most of the Mommy Makeover results, so you should be finished having children prior to your Mommy Makeover. Reducing your exposure to the sun and always wearing protection (sunscreen, sunglasses, a brimmed hat, protective clothing, etc.) will help protect your skin and help incisions heal better.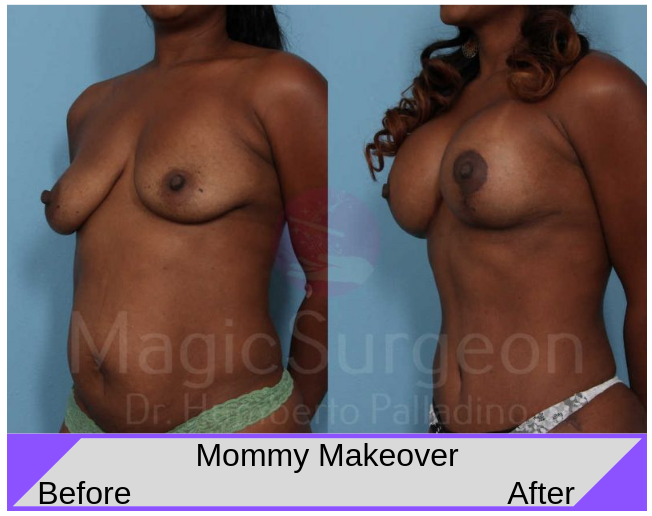 Learn more about Mommy Makeover surgery options by scheduling a consultation today! We invite you to reach out by completing our online contact form to get in touch with our team.
What Can a Mommy Makeover Include?
Women who have given birth to children have likely undergone drastic bodily changes after their pregnancy. A Mommy Makeover can address concerns in the breasts, midsection, buttocks, and anywhere on the body with excess fat or loose skin. You deserve to have your ideal pre-baby body restored, and a Mommy Makeover can target your areas of concern and accomplish your desired goals. Every Mommy Makeover is fully customized to meet the needs of each patient, so discuss your goals and preferences during your consultation to ensure your desired results are achieved.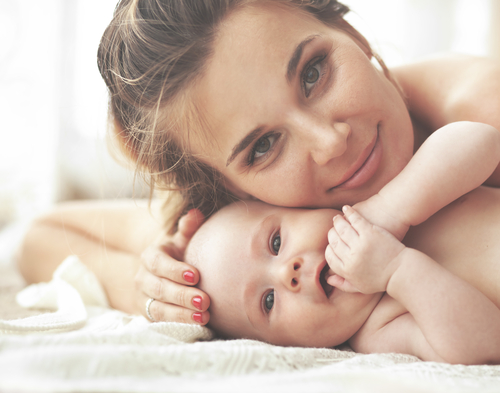 Breast Augmentation
Sagging breasts that have lost their volume can be corrected with breast augmentation, which increases the size of the breasts with various options for implant textures, materials, sizes, and shapes to match the desires of the patient. Breast augmentation can be combined with a breast lift to reposition the breasts to a higher position on the chest and correct any nipple or areola (the dark skin surrounding the nipples) irregularities or asymmetry.
Liposuction
Liposuction is designed to remove fat from specific regions of the body, most commonly from the arms, thighs, abdomen, hips, and flanks. First, small incisions are made and a surgical suction device, or cannula, is inserted to gently remove unwanted fat to reveal a thinner, tighter appearance. In some cases, body fat transfer can be used to purify the harvested fat to be injected into an area that needs a subtle increase in volume, such as the breasts or face.
Tummy Tuck
A tummy tuck addresses the abdominal region by removing excess fat and skin, repositioning and tightening the stomach muscles, and pulling everything taut for a smoother, chiseled torso.
Recovery
After a Mommy Makeover, most patients feel tired and need to rest for the first week. Swelling, bruising, tenderness, and mild discomfort can be expected. Most patients can resume work and light exercise within six weeks, and most of the symptoms diminish within seven to 10 days. Tips for a comfortable recovery include:
Getting plenty of rest and sleep
Preventing strenuous activities or exercise
Avoiding direct sunlight, especially on incision locations
Following your post-operative care instructions carefully
Retaining Your Results
Exercising regularly and making healthy changes to your diet can help your results last longer. Any fat removed during your procedure is permanently eliminated, and scars will fade with time.  The outcome is a slimmer body contour, enhanced breasts, and improved confidence.
To learn more about Mommy Makeover surgery and schedule your consultation, call our office at (866) 624-7874.