Male Plastic Surgery: the Daddy Makeover
Posted June 17, 2019 in Daddy Makeover
The Mommy Makeover is a well-known plastic surgery procedure, especially for women who have experienced pregnancy and childbirth and would like to restore their pre-baby bodies. While this is one of the plastic surgery procedures most commonly requested by women, men are often left with a question: can I get a full-body makeover after weight gain or other effects of aging?
Raising a family is stressful, even if you were not the one who was pregnant or who gave birth. The more time you spend taking care of your children, the less time you have to take care of yourself. Home-cooked meals may take a backseat to fast food, your workout routine may shrivel because you need to get home and take care of the kids, and the increased stress could contribute to weight gain and other cosmetic issues.
Although it is not commonly discussed, many men in these kinds of situations develop insecurities about their bodies that could be solved through plastic surgery.
By combining various procedures, Dr. Palladino can help men accomplish their ideal body shape by correcting multiple areas of concern at once, requiring less downtime and providing comprehensive results.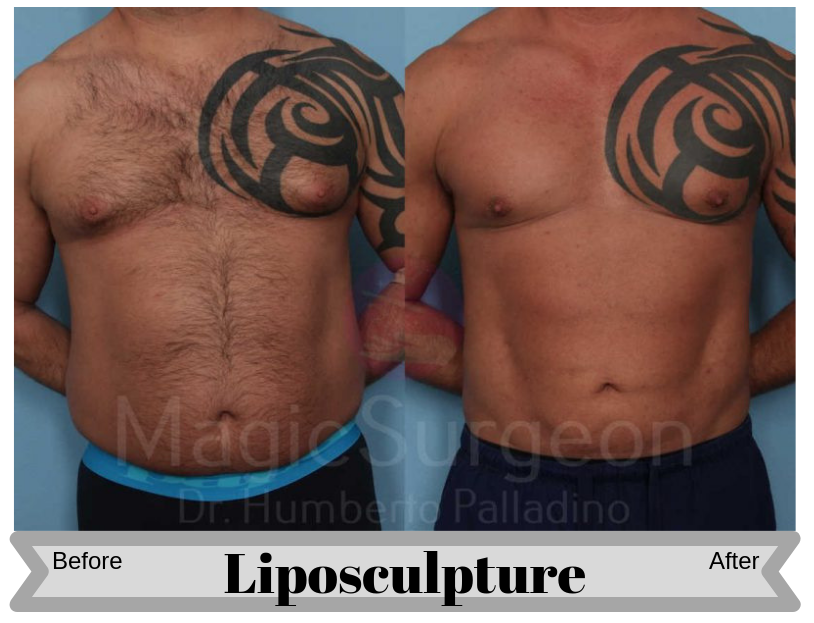 What Is the Daddy Makeover?
The Daddy Makeover combines several plastic surgery procedures to help men achieve a rejuvenated and muscular appearance from one surgery. This is an excellent option for men who have tried to diet and exercise to achieve their goals but are still unable to get the look they desire.
Men who are in good health and have realistic expectations for their outcome may be great candidates for a Daddy Makeover.
Which Male Plastic Surgery Procedures Are Offered?
Facial Rejuvenation
There are a variety of facial rejuvenation procedures that are designed to treat signs of aging, such as fine lines, wrinkles, creases, and sagging throughout the face and neck. These procedures include the forehead lift, full facelift, mini-facelift, mid-facelift, and neck lift. By lifting the facial tissues and removing excess skin, men can enjoy a more youthful and refreshed appearance. For younger patients, fat grafting is a great option for permanent volume restoration for the face.
Non-surgical Facial Rejuvenation
Patients who are seeking less invasive procedures can receive one or a combination of several minimally invasive facial rejuvenation techniques to reduce the appearance of creases on the forehead, furrows between the eyebrows, fine lines around the eyes, wrinkles around the mouth, and extra skin under the chin. Your treatment may include a combination of dermal fillers, laser skin resurfacing, BOTOX® Cosmetic, and/or other treatments.
Gynecomastia Treatment
Male breasts can become enlarged due to excess fat and glandular tissue in the chest. This condition is known as gynecomastia and can be caused by hormonal abnormalities or other contributing factors.
Male breast reduction is designed to remove fat, breast tissue, and unwanted skin from the chest region to provide a tighter, more defined chest.
Rhinoplasty
A crooked, bumpy, or large nose can affect the overall facial profile. Men who are unhappy with their current nasal structure can undergo rhinoplasty, or nose surgery, to correct an asymmetrical, wide, or previously damaged or broken nose. Dr. Palladino is careful to retain the masculine shape when reconstructing your nose.
Liposculpture
Stubborn excess fat in the midsection, often referred to as a beer belly or love handles, is common among men. To slim and tone the torso, a combination of liposuction and fat grafting, known as liposculpture, can be performed. Liposculpture is designed to remove diet and exercise-resistant fat and reshape the body to the ideal contour. The main areas enhanced are the pectoral region, abdomen (six-pack), and flanks (love handles).
Pec Augmentation
A pectoral augmentation may be included in your procedure to improve the appearance of the male chest and create a more masculine physique. Smooth, flexible, and robust pectoral implants or fat injections can be used to provide better definition and a brawny chest.
Male Hair Restoration
Hair restoration for men is specifically designed to achieve a fuller head of hair by redistributing active, healthy hair follicles from healthy areas to regions with less hair growth.
Follicular Unit Extraction (FUE) vs. Follicular Unit Transplantation (FUT)
FUE removes individual hair follicles and redistributes them. This is known as hair grafting.
FUT removes a thin strip of hair follicles from the lower head and moves it to thinning patches of hair. This is known as a hair transplant.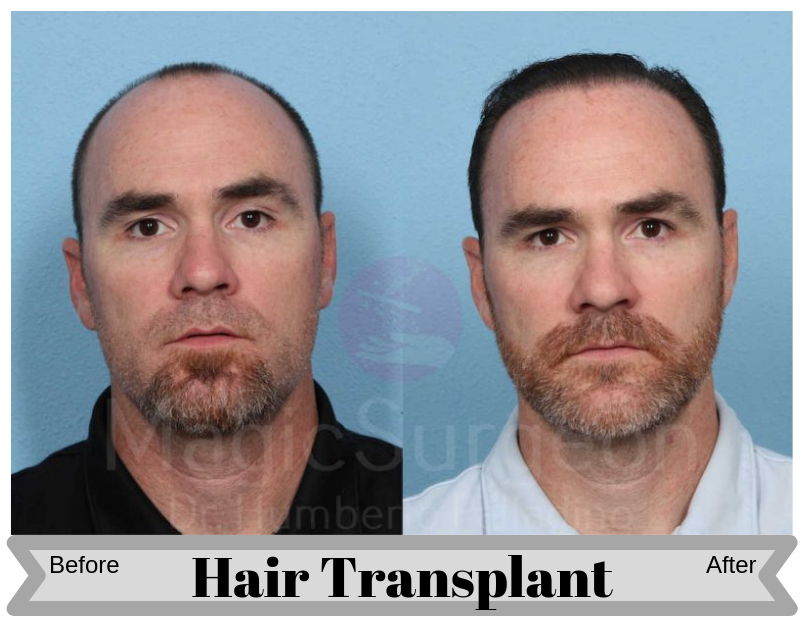 Why Is Male Plastic Surgery Becoming More Popular?
With so many cosmetic options available and advancements in technology broadening the scope of available treatment, there has never been a better time to undergo plastic surgery.
Dr. Palladino has vast experience treating the male population and helping them achieve the best version of themselves. View more before and after photos of real patients who Dr. Palladino has helped in our online photo gallery.
If you are interested in male plastic surgery, you may be an ideal candidate for the Daddy Makeover. Please schedule a consultation by calling (866) 624-7874 today or by filling out our online contact form.