Recover Before Summer
Posted May 28, 2018 in Breast Augmentation, Butt Augmentation, Tummy Tuck Surgery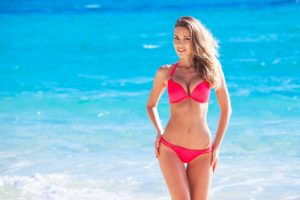 While plastic surgery is desired year-round, it's not uncommon for patients to use "looking good for summer" as their final goal. Between the bikinis, shorts, and dresses designed for the Florida sun, summer is that particular time of year for showing off your body. Given that looking good on the beach is a constant request from patients, it's no surprise that summer-inspired surgeries, such as breast augmentation, tummy tuck surgery, and butt augmentation are popular this time of year.
The Earlier, the Better
Patients don't always consider recovery when planning for plastic surgery. Surgery doesn't provide immediate results. Swelling, bruising, and discomfort are all side effects of breast augmentation, tummy tuck, and butt augmentation recoveries, and this swelling can last a couple of weeks to a couple of months. For breast augmentation, swelling lasts about six weeks, after which time, your final results will begin to show. During this time, you will want to refrain from any strenuous exercise, so sports on the beach may have to wait. For tummy tuck surgery, the swelling and limited exercise period can be anywhere from six to eight weeks. Butt augmentation recovery often depends on the augmentation technique used (whether it was through fat grafting, implants, or muscle flaps); however, regardless of the method, you will want to refrain from sitting too much for at least two weeks after the procedure.
While this isn't saying that you can't have surgery in the summer and still enjoy the season, this is suggesting that the earlier you can have your procedure done, the better off you'll be for strutting your new physique in the hot weather.
You Can Help Your Recovery Along
While all procedures will have a recovery period, you can help that recovery along with a few tricks. The first trick is the most important: REST. Resting is the best way to ease your recovery along. One of the worst things you can do for your body is to push yourself before you're ready. So take it easy and enjoy the well-deserved break. The next trick is to get up on your feet as soon as you feel ready. Leisure walks will promote circulation and blood flow, which will speed your recovery in a safe way. Other little tricks include eating a healthy diet full of vegetables, fruits, and lean proteins. If it's good for your body when you're not in recovery, then it will be even better when you are. The last trick is to drink water, lots and lots of water. Keeping your body hydrated will help your body heal.
If you are interested in getting toned for summer, call Dr. Palladino today at 866-MAG-SURG to set up your consultation.