Contour Your Profile
Posted October 22, 2018 in Facial Plastic Surgery
Often, when patients discuss a previous facial plastic surgery procedure, it is one that was done to address visible signs of aging, such as a facelift, eyelid surgery, or brow lift. However, anti-aging procedures are not the only option for facial plastic surgery. Augmentation procedures are common among patients of all ages to adjust, alter, and enhance underlying facial structures.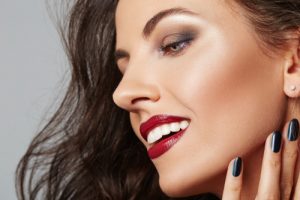 While it is not solely responsible, more patients are choosing facial plastic surgery (especially augmentation procedures) because of the massive role that social media now plays in their lives. Unlike ever before, there is pressure to look your best at every moment, and with that, patients are becoming increasingly concerned with the shape and angles of their profiles.
Nose
The complaints that patients have about their noses are numerous and broad. Whether they believe their nose is too large or too small, has a hump on the bridge, a flat bridge, a drooping tip, or has flared or too-narrow nostrils, an ill-shaped nose is one of the biggest patient concerns. The one shared component is that they are unhappy with their nose and would like it to be altered. Rhinoplasty adjusts the shape, size, and projection of the nose to be in proportion and harmony with the rest of the face. An unbalanced nose alters the appearance of all your other facial features. You may find that adjusting the profile of your nose will accomplish all that you want in terms of contouring your features.
Chin
Nothing changes your profile as much as your chin. Although it is an oft-forgotten feature, it is vital to the balanced proportions of your face. Some patients are born with an underdeveloped chin, one that doesn't project the way it should or match the features above it. When this occurs, the lack of definition affects the entire face. Chin augmentation makes use of chin implants fastened to the jawbone and tissue to make them secure, long lasting, and reliable.
Lip
Full and luscious lips are one of the biggest trends of the last decade. Everyone wants to get the perfect pout that will pop in pictures and enhance their smile. Lip augmentation can be performed in either temporary or permanent ways. Dermal fillers, such as JUVÉDERM® or Restylane®, add temporary fullness to the lips. These hyaluronic acid fillers are customizable, and treatments can be repeated as necessary, allowing you to maintain the exact fullness you desire. A more permanent way to enhance the lips is through fat injections. Fat injections use fat that has been taken from another part of your body, purified, and injected to add natural definition and shape.
Cheeks
While both chin and lip augmentation are designed to add shape and definition to the profile, cheek augmentation often goes the other way. For patients who never lost the baby fat in their cheeks, buccal fat pad removal is a way to shed the cuteness and achieve an angled, sculpted, adult-looking contour. The buccal fat pad is what is responsible for the roundness of your cheeks; however, this pad is not necessary. If you are bothered with the plumpness of your cheeks, your buccal fat pads can be removed to provide a more chiseled facial aesthetic.
If you are interested in enhancing your profile, contact Dr. Humberto Palladino by calling (866) 624-7874 to set up a consultation.