Should I Get Liposuction or a Tummy Tuck?
Posted July 30, 2018 in Liposuction, Tummy Tuck Surgery
A firm and sculpted abdomen is one of the most desired physical attributes. Unfortunately, it is also one of the most difficult to attain. Age, genetics, pregnancy, and everyday life all work against our abdomen and leave us with unwanted stomach pooches, excess abdominal skin, and weakened underlying muscles.
Cosmetic enhancements can be an effective way to achieve the midsection you desire, and Dr. Palladino can help you make your desires a reality.
When it comes to the abdomen, you have two surgical options: liposuction or tummy tuck surgery. While you may find that you are a candidate for both, one technique may be more beneficial to you than the other, and learning about these procedures is the best way to ensure that you maximize the effectiveness of your procedures.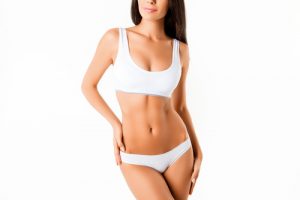 Liposuction
Liposuction has been removing unwanted pockets of fat for decades. In this procedure, Dr. Palladino makes a small incision in the treatment area, and the unwanted fat cells are loosened before they are removed through a hollow tube. This procedure is effective in removing fat in the long term, as the fat cells taken with liposuction will not return as long as you maintain a healthy and active lifestyle.
Along with the abdomen, liposuction can be used to remove fat on the hips, buttocks, thighs, and upper arms. While liposuction can remove pockets of fat, it cannot address other abdominal concerns such as skin laxity or muscle separation. If you are experiencing skin laxity, liposuction would not be ideal for you, as removing additional fat cells may accentuate and increase the amount of skin laxity.
If, however, your skin still has high amounts of elasticity with no present laxity, then liposuction of the abdomen may be what you are looking for. It is less invasive than a tummy tuck and can provide the right candidate with the sculpted and slim physique that may have previously felt unattainable.
Tummy Tuck
Tummy tuck surgery addresses a variety of abdominal issues, including excess fat, loose skin, and separated muscles in both the lower and upper abdomen. This surgery is one of the most invasive; however, it can also achieve some of the most significant improvements in your overall physique.
In this procedure, an incision is made in an easily hidden region where excess skin is trimmed, underlying muscles are tightened, and pockets of fat removed. A tummy tuck is an abdomen overhaul and is ideal for patients who experience significant skin and muscle laxity. These patients have often experienced changes after multiple pregnancies, significant fluctuations in weight, and the natural course of aging.
If you are tired of a pooched stomach appearance, liposuction or tummy tuck surgery may be the answer you are looking for. Set up a consultation with Dr. Palladino to discuss your options and determine which procedure may be ideal for you. Call the MagicSurgeon at 866-624-7874 today.
You can learn more about this on MagicSurgeon's YouTube Channel following this link: