The Skinny Girl's Guide to Getting Curves
Posted April 04, 2017 in Breast Augmentation, Butt Augmentation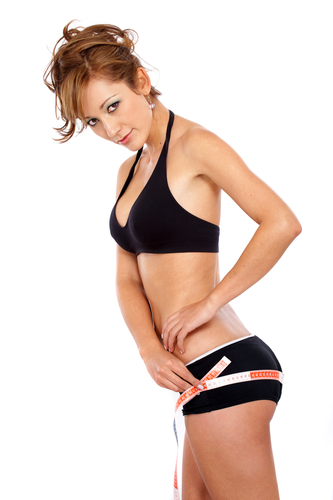 Are you tired of hearing people say things like, "You're so skinny" or "You need to eat a cheeseburger"? Do you look in the mirror and wish you could exchange your pencil-like figure and bony butt for more voluptuous curves? Despite our slim-obsessed media culture, thinner women know that being "skinny" isn't all it's cracked up to be. If you're more bony and flat than curvy, don't just eat junk food to gain a few pounds—any weight gain will most likely be on your stomach, not your chest or buttocks. Instead, come to Magic Surgeon Dr. Humberto Palladino to get permanent, natural-looking curves with breast augmentation and butt augmentation.
How to Get a Fuller Bust
Breast augmentation can give you a fuller bust. This procedure uses breast implants to enhance the size, firmness, and volume of the breasts. You can choose from a variety of breast implants to take you from "barely an A" to a full C or D cup. An important point for thinner figures is to seek out a surgeon who has the experience and ability to produce natural-looking results regardless of body type. With the wrong surgeon and the wrong implants for your naturally slender figure, your new breasts could look obviously fake. However, with the right surgeon, the right implants, and the right surgical techniques, you can achieve curves that look as though you were blessed with a naturally full bust to accompany your flat stomach. Many women can only dream of this, as it truly is the best of both worlds.
How to Get a Bigger Butt
A newer procedure that has gained great popularity in recent years is butt augmentation. It is possible that butt augmentation procedures are increasing because thinner women like you want more feminine curves. According to statistics provided by the American Society for Aesthetic Plastic Surgery, the number of butt augmentations in 2016 increased by an astonishing 180 percent from the number of butt augmentations in 2011, just five years earlier.
While the Brazilian Butt Lift is popular among women with stubborn fat deposits, butt implants are an excellent and practical choice for skinny girls. Magic Surgeon Dr. Palladino can insert butt implants into your backside to give it a lift with soft, full, and round curves. These implants can be placed in or above the gluteal muscles and produce immediately noticeable results. Inserting silicone butt implants is not just a temporary fix—it will permanently enhance the appearance, shape, and projection of your buttocks. Butt augmentation with implants can help women who lack natural curves achieve the sexy body shape they desire.
Breast augmentation and butt augmentation offer a way for skinny girls to achieve a sexy, hourglass figure without resorting to overeating and threatening their general health or risking the accumulation of excess abdominal fat. Call (866) 624-7874 or complete our online contact form to schedule your one-on-one consultation with Magic Surgeon Dr. Palladino today.